Joined the Firm in 1982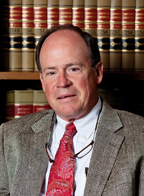 Position:
Member
Date of Birth:
Clarksdale, Mississippi – July 11, 1957
Admitted to bar:
1982, Mississippi
Education:
University of Mississippi (B.B.A., 1979; J.D., 1982), Delta Theta Phi, Certified Mediator, Attorney Mediators Institute, 1998
Member:
Jones County (President, 2000) and American Bar Associations; The Mississippi Bar (President, Young Lawyers Division, 1989-1990); St. Johns Episcopal Church – Lay Reader, Vestry Member; Fellow & Member of Board of Trustees of MS Bar Foundation; American Assoc. of Justice; Member of Lamar Order (Pres. 09-10); American Board of Trial Attorneys (ABOTA) MS Chaper.
Practice Areas:
Mediation, workers compensation, trials and appeals, personal injury, bad faith litigation, product liability, trucking litigation
Author:
Eugene M. Harlow is the co-author of "Discussion of Fifth Circuit Class Certification Issues and the Possibility of Pursuing Class Certification in State Court," presented at The Mississippi Bar Summer School in 2000 and featured in the October 2000 issue of The Mississippi Lawyer. He is also co-author of "Prohibition Against Ex Parte Contact With Physicians in Workers' Compensation Cases" featured in the December 1999 issue of the MDLA Quarterly.
Biography:
Eugene M. Harlow was born in Clarksdale, Mississippi. He attended the University of Mississippi and received a Bachelor of Business Administration in 1979 with a major in Banking Finance. He graduated from the University of Mississippi School of Law in 1982.
While in law school, he was a member of Delta Theta Phi. He was admitted to the Mississippi Bar in 1982.
Harlow joined the firm in 1982 and is a Certified Mediator and Arbitrator. He completed the Attorney Mediators Institute in 1998, U.S. Postal Service Mediation Training in 2000, and Family Law Mediation Training in 2000. Mr. Harlow is admitted to practice before all Mississippi state courts, federal district courts, and the Fifth Circuit Court of Appeals.