Joined the Firm in 1981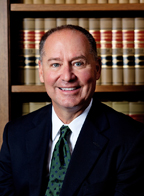 Position:
Member
Date of Birth:
Natchez, Mississippi – April 26, 1954
Admitted to bar:
1981, Mississippi
Education:
University of Mississippi (B.A., 1975; J.D., 1981), Phi Alpha Delta
Member, Mississippi Board of Bar Commissioners
Member:
Jones County (President, 1992) The Mississippi Bar; Mississippi Defense Lawyers Association; Mississippi Oil and Gas Lawyers Association; Mississippi Claims Association [COL, JAGC, Mississippi  National Guard]
Practice Areas:
Trials and appeals, environmental law, toxic torts, product liability, insurance claims, personal injury
Biography:
Gene Hortman was born in Natchez, Mississippi on April 26, 1954 and was reared in Prentiss, Mississippi. He graduated from the University of Mississippi in 1975. In 1978, after working for three years with Halliburton Services in West Texas, the Middle East, and the North Sea, he returned to the University of Mississippi School of Law and graduated in 1981.
Hortman began his legal career in 1981 as an associate at the firm and became a member of the firm in 1987. He has a general civil litigation practice with an emphasis on products liability, toxic torts, environmental law, and personal injury. He has tried cases ranging from dog bites to radiation exposure.
Hortman is admitted to practice in all state and federal courts in Mississippi, the United States Fifth Circuit Court of Appeals, and the United States Supreme Court. He enjoys an active military career as a Colonel in the Mississippi Army National Guard JAG Corps. He is assigned to Joint Force Headquarters, Jackson, Mississippi, where he serves as the State Judge Advocate for the Mississippi National Guard.  He served in Iraq with the 155th Brigade Combat Team in 2005. He is married and is the father of four children.